This week
Russian authorities act against REvil ransomware gang
Russia has detained fourteen and charged eight individuals from the REvil ransomware gang. "The organised crime gang ceased to exist," said a statement from the FSB, Russia's main security agency, following raids at 25 locations in five different regions of the country.
Along with the arrests, the FSB seized 426 million rubles (£4M), $600,000, and €500,000 in cash, a further £440,000 in cryptocurrency and over 20 'premium cars'. The suspected malware author and leader of the group, Yevgeniy Polyanin, appears to still be at large (and on the FBI's most-wanted list).
REvil were responsible for the attack that exploited a vulnerability in the Kaseya remote management tool (vol. 4, iss. 28) used by 60 organisations to manage the IT of 1,500 organisations. Following that attack the group's infrastructure was taken offline in October (vol. 4, iss. 43) by a multinational operation, before briefly reappearing (restoring from backups that had included an FBI backdoor) and then finally going to ground again in November last year.
It's a positive step in relations between the US and Russia, with the former having been increasingly calling for the Kremlin to take action against ransomware gangs. Especially following the attack on Colonial Pipeline (also linked to REvil). However, it also comes at a time of heightened tensions and diplomacy between the two countries and Russian troops amass on the Ukrainian border.
Dmitri Alperovitch (Crowdstrike founder) said the move was 'ransomware diplomacy' and a signal bartering over potential sanctions against actions in Ukraine. 
Strategic geopolitics aside, it's a huge development that's sure to send shockwaves through the cybercrime community. (Though ultimately that will depend on how the individuals are prosecuted and, if guilty, sentenced). I wouldn't hold your breath for any extraditions to the US, mind.
bbc.co.uk,  washingtonpost.com,  scmagazine.com,  zdnet.com
Interesting stats
35% increase in malware targeting Linux denies in 2021, with over 1/5 attacks relating to one of three malware families (XorDDoS, Mirai, Mozi), according to Crowdstrike bleepingcomputer.com
$395M worth of cryptocurrency stolen by North Korean attackers in 2021, according to Chainalysis, with  $1.5B stolen by the regime in the last five years wired.com
Other newsy bits
Google Analytics' transfer of data to the US contravenes GDPR
The Austrian data protection authority — Datenschutzbehörde (DSB) — has found a publisher's use of Google Analytics in contravention of the General Data Protection Regulation because it moves personal data to the US. The case in question involved a site that offered Google login, explicitly tying the visit to a user, and because Google can be subject to US intelligence requests 'standard contractual clauses' were deemed insufficient protection.
In this case, IP-anonymisation had not been properly implemented, though the judge also noted that this was essentially just one piece of the puzzle, hinting that it alone may not be sufficient in the future. 
The extra-territoriality of new data protection regulation (applying to citizens of a nation no matter their physical jurisdiction) is going to cause many headaches in the coming decade as lawmakers and courts try to figure out how this works in practice. The options at the moment are pretty blunt: run an EU-specific version of Google Analytics (up to Google) or greater protections to personal data in the US (up to US legislators).
Ransomware attack: maybe accelerate those digital transformation plans?
Nordic Choice Hotels responded to a ransomware attack in December last year (vol. 4, iss. 50) in a novel manner. The hotel chain used the opportunity to migrate to Chrome OS, with the first hotel being up and running within 24 hours of the attack and a further 2,000 computers at 212 hotels in five countries being migrated in the following 48 hours.
The company had already run a pilot and had planned to make the switch: the ransomware incident provided the impetus to crack on. Using the opportunity to build back in a more secure (and cheaper/easier/more productive) manner is something I've seen as an attractive option for businesses in these situations. It's interesting to see it as a case study of what's possible.
The kicker is a 60 million NOK ($6.7M) saving by being able to repurpose old hardware.
Good thinking
Changing big stuff and little stuff
Phil Venables discussed the importance of security programmes having the right balance of transformational big bets alongside relentless incremental improvements. Lots of good advice and food for thought here.
Start with context and constraints for a successful cyber strategy
Phil Huggins has some great lessons on writing cyber strategies. A good set of pointers and questions that you can use to check/challenge your ego and assumptions. Set yourself up to start from the right place.
And remember: frameworks frame, they don't fix.
Write strong risk scenarios
Tony Martin-Vegue's post on the ISACA website looks at the 'art' of writing good risk scenarios. (Something we covered off during a session for the Open Security Summit). There are some bits I'd disagree with — I've come round to the opinion that asset-driven risk assessments don't allow you to capture the holistic risk faced for many organisations — however, it's great to see emphasis given to the skill of composing and communicating risk clearly.
Welcome focus is also given to the identification phase of risk management. This is foundational to good risk analysis but is oft-overlooked. Get it wrong and you leave yourself open to being blindsided. (As an aside: it's an area we devote more time to at Cydea and have positive feedback from clients, too (great job, Niall!)).
In brief
Attacks, incidents & breaches
Also…
Threat intel
Vulnerabilities
Cyber defence
Security engineering
Operational technology
Privacy
Regulatory
Law enforcement
And finally
The Security Obstructionism (SecObs) market
This easily falls within good thinking above but rounds out this week's newsletter due to the on-brand, sharp-witted observations from Kelly Shortridge on 'security obstructionism'. I'm sure we have all experienced "security says no" at some point in our lives and careers. There are some great examples in this blog post. Take a look on Monday to see which of these your organisation is doing (then try to stop them!)
"The point of SecObs is not better security outcomes for the business or end users. The point is more security outputs as a proxy for progress and these outputs impart more control over the organization, transmogrifying into power and status."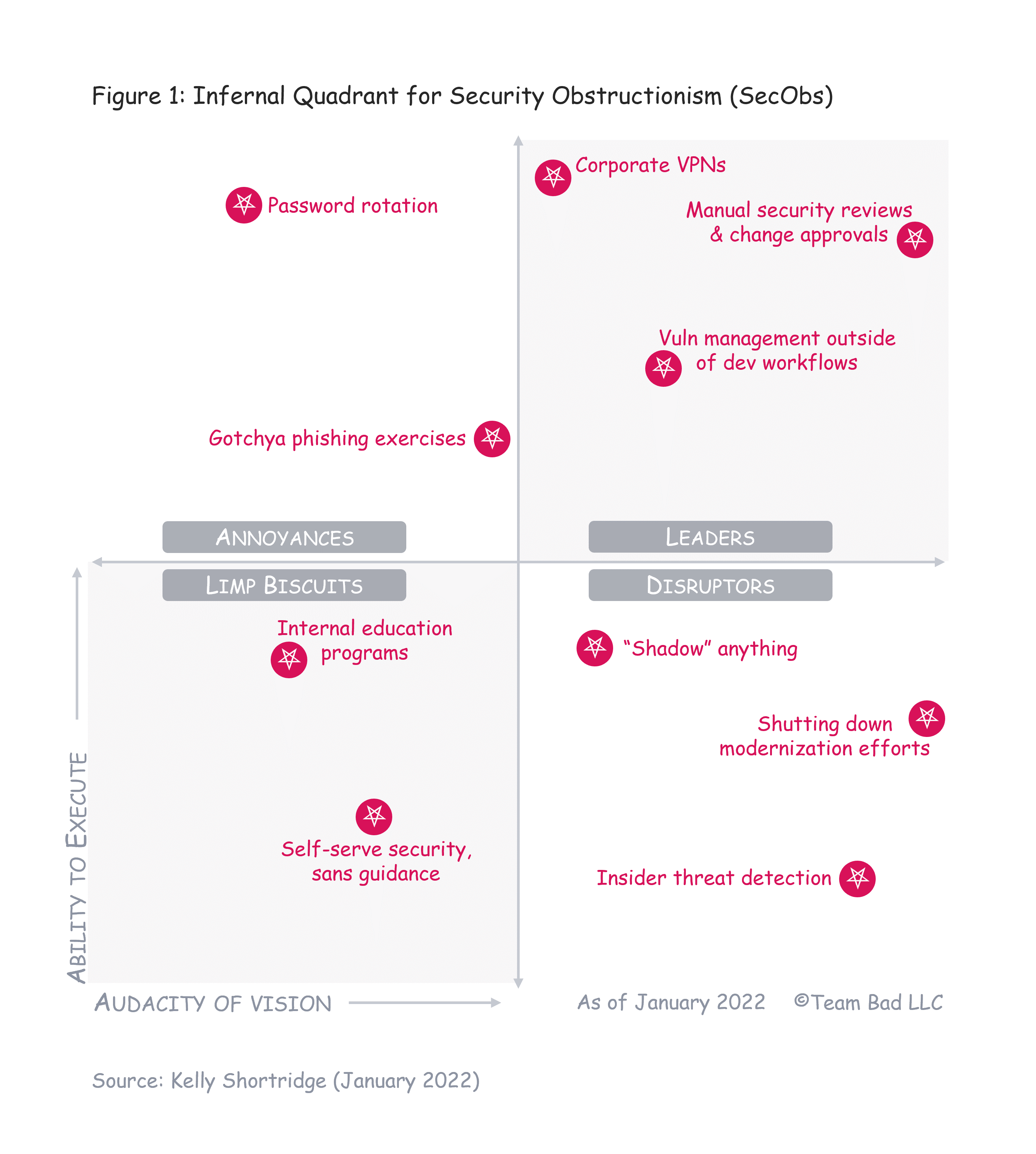 swagitda.com