This week is interesting stats
It's the fifteenth Data Breach Investigations Report from Verizon and this year's report is based on 23,896 security incidents, of which 5,212 were confirmed intrusions covering the period from 1st November 2020 to 31st October 2021.
Threat actors tend to be 'in it' for one of three reasons: for financial gain, for national interest or for a cause. Financial gain accounts for the significant majority of incidents while hacktivism seems a distant memory:
93% of attacks were financial motivated 
6% of attacks were rooted in espionage
80% of breaches were external, with evidence suggesting just shy of ~20% being internal. Though the number of records involved is almost diametrically opposed, with internal breaches resulting in ~5x the number of records being exposed.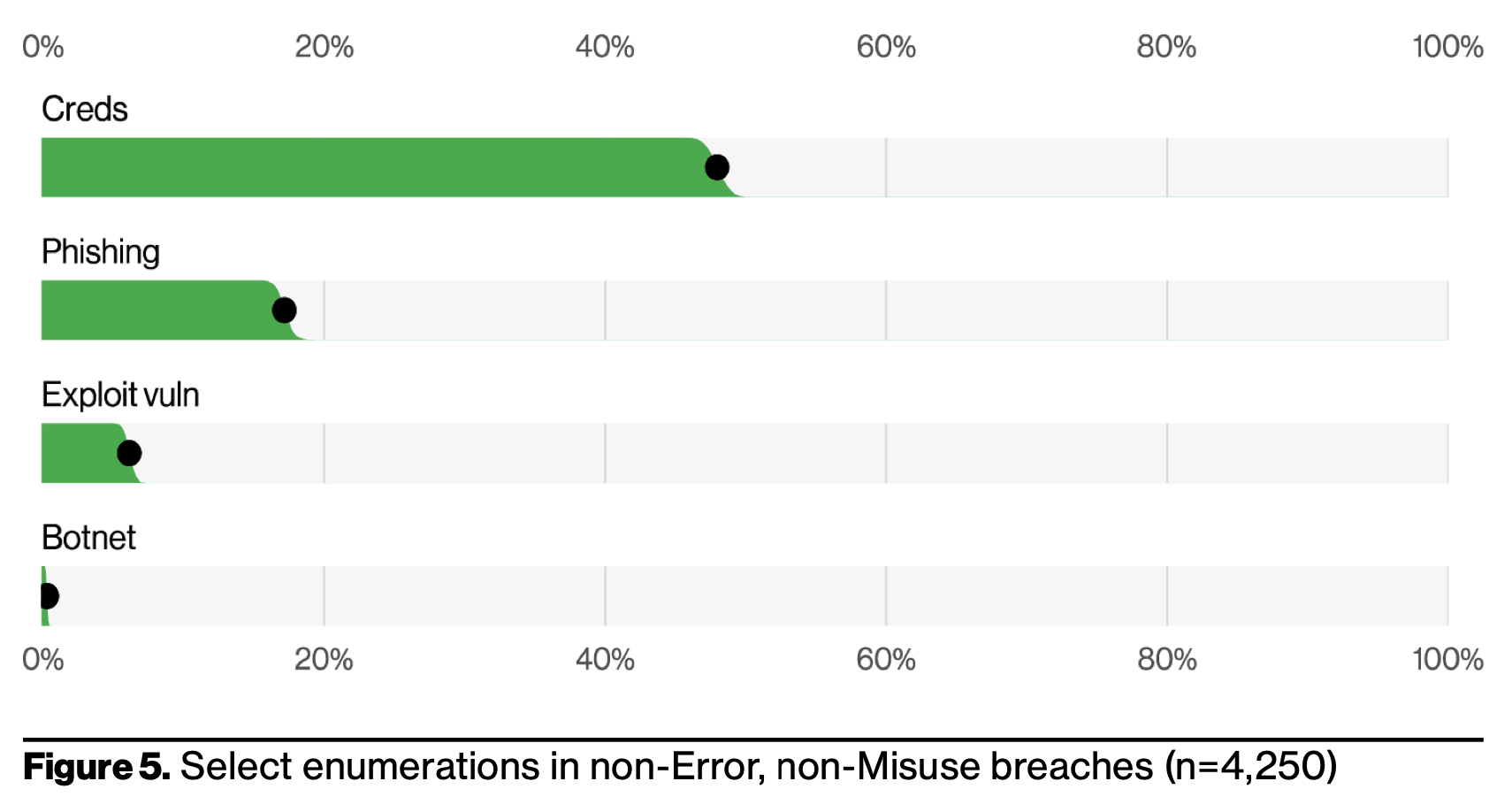 When error and misuse are excluded, credentials are far and away the most common path into an organisation's network. This is why strong authentication (including things like multi-factor authentication) is so important as a defence. Phishing is the second most common in this situation, though is involved in less than one-in-five breaches. Some of that will be down to anti-spam controls and mail filtering controls, and increasing user awareness. Exploited vulnerabilities come in third and less than one-in-ten breaches. 
In what will be a surprise to very few, given how much ransomware has dominated headlines, this type of incident has seen a 13% increase since the previous report. One of the most interesting parts is the examination of what the economics look like for a ransomware actor (Appendix E). 
"Ransomware is more of a lottery than a business. You gamble on access, win the lottery 40% of the time, and get a payout from a few bucks to thousands of dollars"
There's plenty of really interesting analysis and commentary in the full report (it's 107-pages!) plus some nostalgia as they look back on the previous fifteen years of reports. 
Other newsy bits
And finally
Crack the four-digit pin encrypting the data on New South Wales' digital driver's license and you can modify the file, with police and venue checks verifying the manipulated information as authentic. Aussie fake IDs abound! arstechnica.com