This week
BUSTED: Two Lapsus$ group members found responsible by UK jury
Arion Kurtaj, 18, from Oxford in the UK, and a 17-year-old who cannot be named have been found to have committed cyberattacks against BT, Okta and Grand Theft Auto developer Rockstar Games.
The pair were arrested, along with five others, in March 2022 (vol. 5, iss. 13) following a chaotic spree of attacks against high-profile victims with the group swing between seeking notoriety, financial gain, or amusement. They used social engineering tricks to access accounts and pivot within targeted organisations. 
As reported by the BBC, Kurtaj is autistic, and psychiatrists deemed him not fit to stand trial, so he did not give evidence and the jury was asked to determine if he did or did not commit the alleged acts, rather than finding him guilty or not guilty.
The US Cyber Safety Review Board recently published a report (vol. 6, iss. 33; PDF)) into the group's methods.
Interesting thinking
Interesting stats
5 days, the median dwell time in the first half of the year, down from  9 days in 2022 for ransomware threat actors, according to Sophos. Most ransomware attacks occur overnight: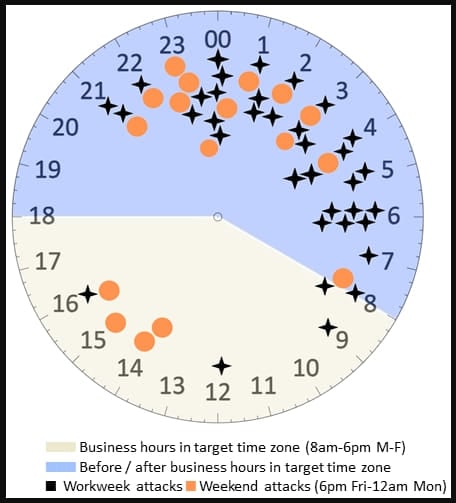 29% of 18-34-year-olds have received unwanted sexual or romantic propositions after giving their personal information to a business, according to research conducted by Savanta on behalf of the UK Information Commissioner. Perhaps more importantly for businesses… 5% of the public (and therefore your potential employees) believed that this was 'morally right', despite it being illegal.
Other newsy bits / in brief
And finally