It's the third birthday of Robin's Newsletter!
To celebrate I'm looking to help you better protect yourselves online with help from F-Secure and Cydea who together are giving away over £15,000 of cyber security products and services!
The folks at F-Secure have given me 20 VIP codes for their F-Secure TOTAL suite that bundles protection against viruses and ransomware, safe online shopping, banking and advanced parental controls, a VPN to encrypt your communication and hide your IP address and a password manager with built-in breach notifications.
Cydea is chipping in 10 YubiKey 5C NFC security keys that can be used for hardware multi-factor authentication with password managers and popular websites and social networks.
And to help you better understand your organisation's security posture, Cydea will also be offering up to five Cyber Scorecard assessments for just £1,200 (70% off!)
More details on how to enter will be sent out to subscribers next week!
Thank you so much for subscribing and reading my musings, weekly news, interesting stats and more every week. If there's someone who you think would benefit from subscribing, then please share this with them.
— Robin
This week
Suspected members of Cl0p ransomware gang arrested in Ukraine
Law enforcement agents from the cyber division of the Ukraine National Police were joined by counterparts from South Korea in a series of 21 raids across Kyiv this week, with six individuals being arrested.
The operation was targeted at suspected members of the Cl0p ransomware gang. The group targeted larger enterprises for high-value demands, operating on a double-extortion basis: one ransom for unlocking files, the other for not releasing stolen files to the public.
Victims have included oil-giant Shell, security firm Qualys, and Stanford University. Many were due to a vulnerability in the Accellion file transfer appliance that was exploited by the gang to gain access to corporate networks.
As well as the arrests property including luxury Lexus, Mercedes and Tesla cars, and cash totalling 5m Ukrainian hryvnias (~$185,000) was seized. If convicted the suspects face eight years in prison.
In a statement, law enforcement said they had also "managed to shut down the infrastructure from which the virus spreads and block channels for legalizing criminally acquired cryptocurrencies."
Lily Hay Newman over at Wired makes the point that, until Russia starts pursuing criminals within its borders, the threat from ransomware isn't going away. Their report also links the arrests to the side of the operation involved with laundering and cashing out money from the criminal enterprise. The core operation is still operating within the Russian Federation, according to intelligence firm Intel 471.
ft.com,  therecord.media,  wired.com
Interesting stats
80% of organisations that paid up during a ransom attack go on to experience a second ransomware incident, sometimes within weeks, and 46% believe the second attack to be perpetrated by the same attackers, according to a survey of 1,263 security professionals by Cybereason zdnet.com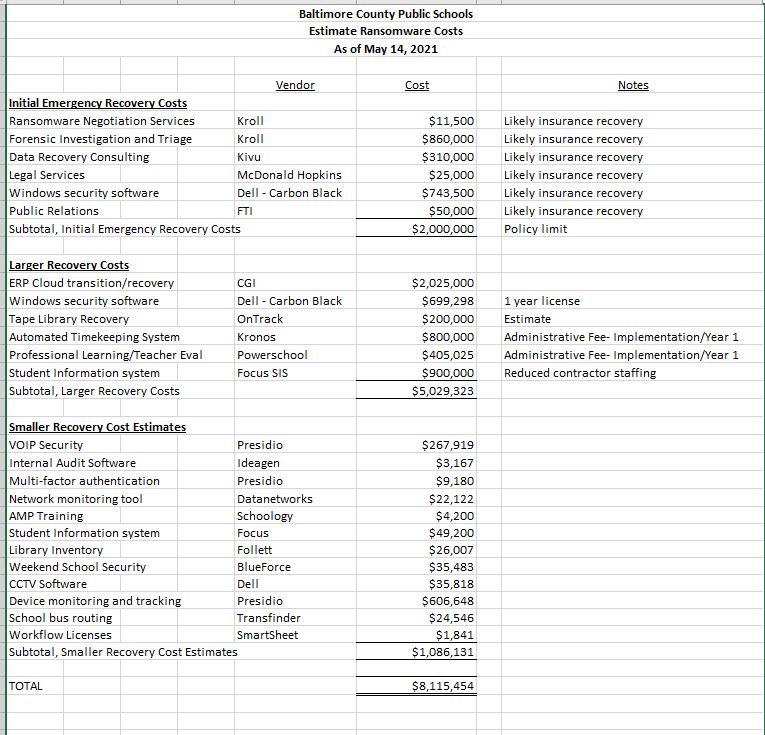 $8,115,414 estimated ransomware costs from Baltimore County Public Schools following the attack by Ryuk last November,  <25% is recoverable from insurance theregister.com
16.5% of authentication attempts during the first three months of 2021 were linked to credential stuffing attacks, with a  40% peak at the end of March, according to Auth0. zdnet.com Wow. The benefits of customers self-serving via online accounts are regularly sought by businesses while the costs associated with monitoring and protecting their accounts are often not considered. These data from Auth0 show that 1/6 of login attempts to your website may be fraudulent.
Other newsy bits
NCSC on ransomware threat at RUSI lecture
Hot off the heels of the G7, where ransomware was discussed by world leaders, The chief exec of the U.K's National Cyber Security Centre (NCSC) gave a speech at the defence think-tank RUSI's Annual Security Lecture. In it, Lindy Cameron reiterated the ongoing threat from hostile nations seeking political advantage by high-tech means, but also that the threat from ransomware gang was the most urgent faced by the U.K.
"For the vast majority of UK citizens and businesses, and indeed for the vast majority of critical national infrastructure providers and government service providers, the primary key threat is not state actors but cybercriminals," — Lindy Cameron, CEO, NCSC
She concluded that a 'whole-of-nation' approach is needed, with efforts from government, academia, industry and cyber insurers, in particular, getting a callout.  theguardian.com,  theregister.com
Long reads
The actual cyber workforce challenge
Phil Venables reminds us that the 'millions' of open cyber vacancies is just one side of the cyber security resourcing problem. While we do need more folks, especially from a diverse background to bring in new experiences and perspectives, we can also reduce the gap by working hard on reducing the demand, as well as increasing supply. Fernando Montenegro's quote is a great example: "it's as if CFOs decided the needed 'x million financial professionals' to allow every business travel expense instead of having corporate travel cards+policies." Work smart, not hard!  philvenables.com
Inside the market for cookies…
Joseph Cox from Vice Motherboard has a look at the invite-only Genesis Marketplace where cybercriminals are trading cookies and browser fingerprints to steal access and avoid multi-factor authentication.  vice.com
In brief
Attacks, incidents & breaches
Threat intel
Vulnerabilities
Security engineering
Internet of Things
Privacy
Public policy
Regulatory
Mergers, acquisitions and investments
And finally
Dear Intern…
Props to HBO Max for sticking by their intern this week, after they accidentally sent an 'integration test' email to a portion of their customer mailing list. These sorts of incidents often highlight incorrect assumptions in a process or controls and should be used as an opportunity to fix the underlying issue. It's sparked loads of 'Dear Intern' responses on Twitter, where folks admit to their previous snafus. Mashable has a collection of some of them within which perhaps Monica Lewinsky wins with her reply: "dear intern: it gets better ♥️".  @HBOMaxHelp,  mashable.com