This week
President Biden: cyber-attacks can lead to 'real shooting war'
Comments from a speech given by President Biden at the Office for the Director of National Intelligence this week made for a raft of coverage.
"If we end up in a war, a real shooting war with a major power, it's going to be as a consequence of a cyber breach," — President Biden
They shouldn't come as much of a surprise: it would be incredibly unlikely for any leader to rule out retaliatory action and strategically limit their response options, especially when not knowing the nature of an attack. (Therein lies the premise of a nuclear deterrent, too.)
Meanwhile, the US Department of Justice announced the Russian Solarwinds attackers gained access to 27 atones offices, including 80% of the email accounts at the four districts of New York that investigate financial and white-collar crimes, including those of former President Trump.
And RiskIQ released details of 30 servers they say are being used by APT29, believed to be Russia's SVR foreign intelligence agency. Used in the command and control of the WellMess malware, previously used to steal intellectual property, including COVID-19 research.
 Closer to home, President Biden issued a memo requiring CISA and NIST to develop cyber security performance measures and goals for critical infrastructure owners and operators.
ft.com,  theguardian.com,  theregister.com,  cyberscoop.com
Interesting stats
287 days to detect and contain a data breach in 2021, +7 days on 2020, according to IBM in a new report that estimates  $4.24 million average cost of a data breach, based on reports from 500 organisations analysed by Ponemon Institute zdnet.com
43% of phishing and social engineering attacks impersonate Microsoft, and there are 57 targeted attacks against the average CEO each year, according to Barracuda zdnet.com
Are ransomware gangs losing interest in 'double extortion' data leak sites?
521 victims posts to leak sites in December 2020, down to  129 in June 2021 following a steady decline, according to Recorded Future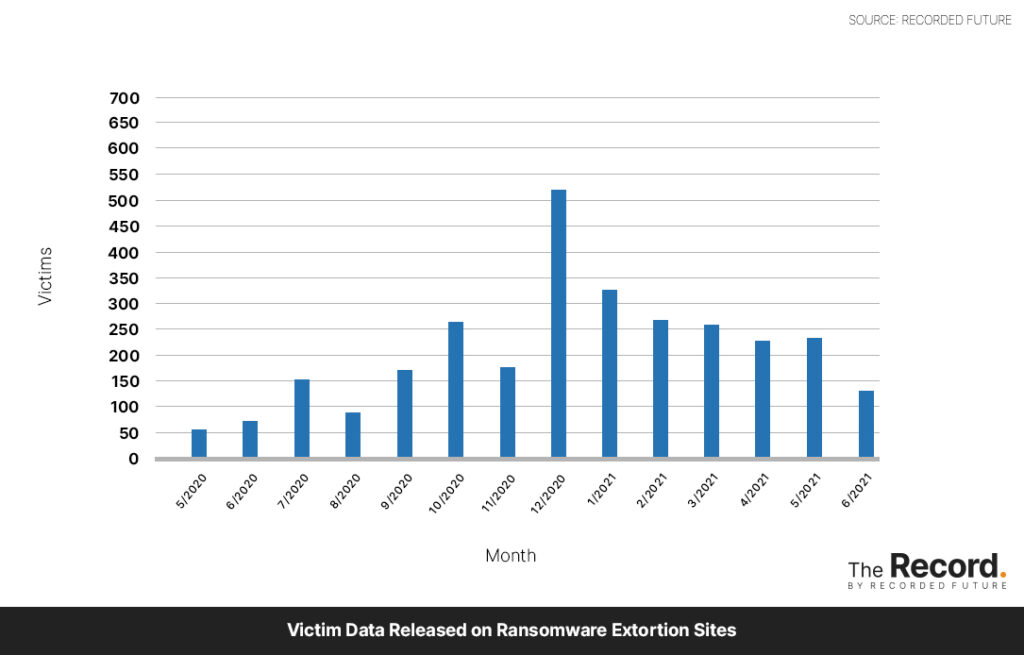 Other newsy bits
Amazon hit with €746 million GDPR penalty
Quietly disclosed in a Security and Exchange Commission (SEC) filing on Friday came the news that Luxembourg's data protection commissioner has proposed a €746M ($887M) penalty for misusing customer data for targeted advertising.
Luxembourg's National Commission for Data Protection (CNPD) is involved because, under GDPR, it is the regulator in the country where the entity is headquartered that performs an investigation.
The penalty comes from a complaint made by a French privacy rights group representing 10,000 European citizens that also targets Apple, Facebook, Google and LinkedIn. The complaint alleges Amazon manipulates its customers for commercial means.
That sounds quite a lot like, well, "advertising" (though I confess to not having read the full complaint as it's in French.)
Amazon disagrees with the fine and has said it will "vigorously" defend itself through the appeals process.
Defence workers targeted by fake fitness persona
This is a great example of the lengths that state-sponsored attackers will go to conducting intelligence operations in cyberspace. What is believed to be an Iranian group, operating a fake fitness instructor account on social media targeted military and defence staff over 18 months. "Marcella Flores" profile said that they lived in Liverpool, UK, and ultimately would share a link to malware that would steal usernames and passwords for onwards attacks against the target's organisations. (H/T Tim O)
Google updating Drive links
Google is updating how shared links for documents and files work, adding a 'resource key' so that you can't just guess the URL of a shared file. That means previously generated links, such as those which you may have made public, will cease to work after 13th September 2021. 
The wording of the update to users is really poor and fails to articulate what's changing. (I ended up speaking to a poor Google support rep over chat who had been inundated with enquires and lamented the poor product update comms). This Ars write up provides a much better description of the problem and change.
If you use Google Drive check it out, and how to explain the change to your colleagues and users. You can view a list of affected files by going to drive.google.com/drive/update-files/.
#ShareTheMicInCyber
Camille Stewart and Lauren Zabierek started the #ShareTheMicInCyber movement to tackle issues stemming from systemic racism and highlight the experiences of Black practitioners. Diversity of thought and experience is important in better defending organisations, and indeed society-at-large. Follow the hashtag and check out the website for more info.
Long reads
Phantom warships: integrity in maritime tracking 
A pattern in fake 'AIS' data signals, used by ships to advertise their location, heading and speed, has been discovered. It suggests that over 100 warships from 16 countries, including the UK, US and Russia, have been spoofed since August 2020, though for what means is unclear. It's not always small changes either: on one occasion the Royal Navy's newest carrier HMS Queen Elizabeth and an escort of five other vessels from three navies was spoofed.
In brief
Attacks, incidents & breaches
Threat intel
Vulnerabilities
Security engineering
Privacy
Public policy
Regulatory
Law enforcement
Mergers, acquisitions and investments
And finally
Goofy password blunder on live TV
Italian commentators at the Tokyo Olympics didn't realise they were on-air when trying to find the password for their computer. Complaining that Goofy, Pluto or Mickey Mouse were all too difficult, eventually viewers found out it was 'Booth.03' and matched their commentary booth. "Next time they will even put a semicolon."