This week
Cyberattack claimed against Iranian steelworks 
Spectacular footage was posted online by the Gonjeshke Darande (Predatory Sparrow) 'hacktivist' claiming responsibility for a cyberattack against three Iranian steel companies, later confirmed by state media in Iran.
Operations were suspended as a result of the attack, though the CEO of one of the affected companies said that "the attack failed and no damage was done to the production line."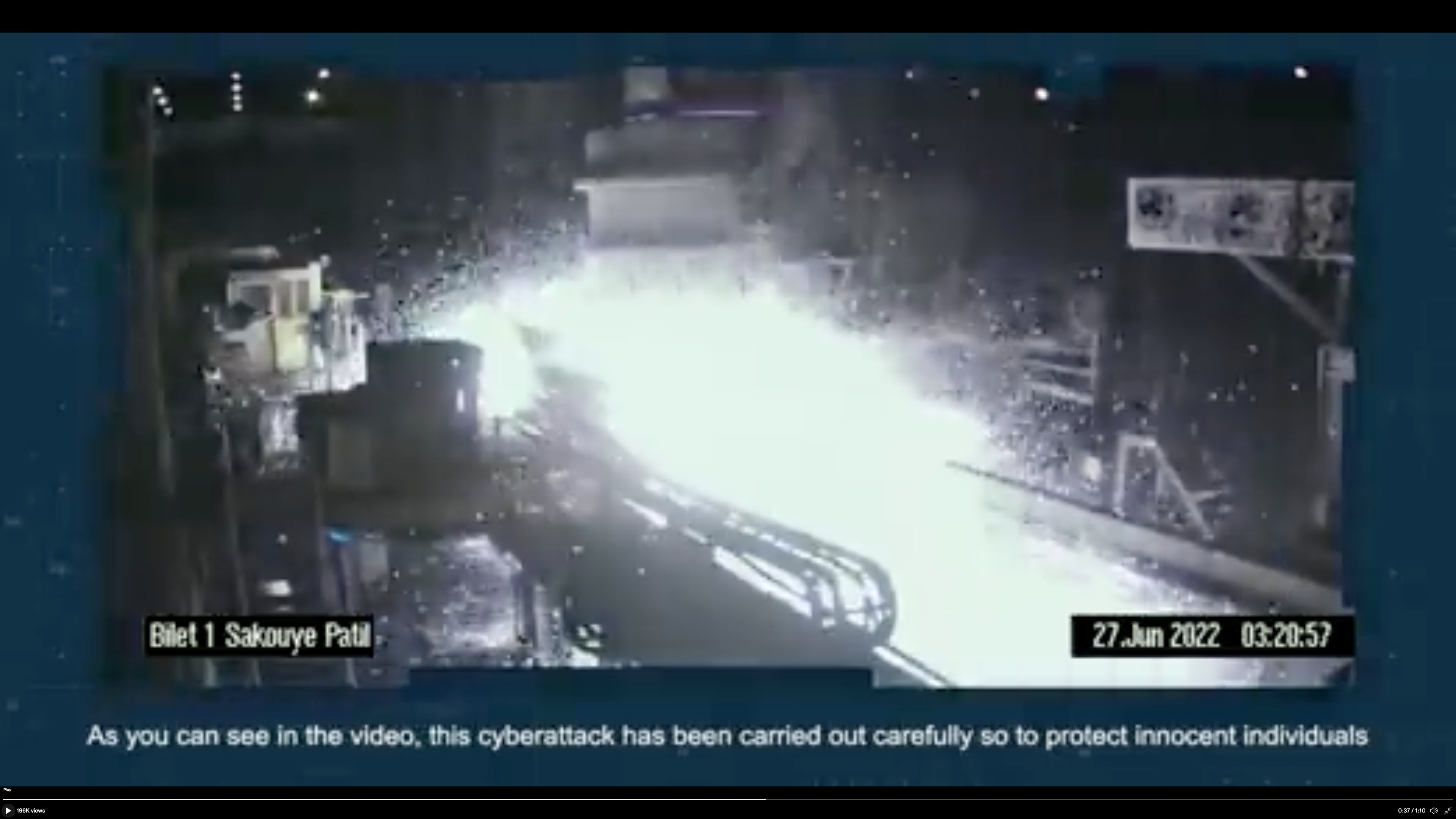 View the full video on Twitter: @GonjeshkeDarand
Kinetic impacts stemming from cyber-attacks are, fortunately, few and far between - making this all the more of a stand-out incident. A previous incident, also targeting a steel works, was reported by the German Office for Information Security (BSI) in 2014.
But while the sparks flew in the video of the attack, the attack itself appears to be far more controlled, as The Grugq points out in his newsletter The Info Op. Of particular note is "the level of effort that the operators took to make sure that the attack didn't harm people. Not only did they take pains to ensure this, but they also made it a pillar of their announcement, along with proof that they took those steps."
Then there is not only compromising the industrial control systems but also the facility's CCTV to provide evidence of the attack. While not unfeasible, these, combined with the slightly odd target selection for a 'hacktivist' group points to it being a state-sponsored group conducting an offensive cyber-operation, but also trying to manage the fallout and establish 'norms' around these types of attacks.
Tom Uren has more background on this, and previous Predatory Sparrow attacks on Iranian targets, which included similar forewarning and careful planning in the Seriously Risky Business newsletter.
cyberscoop.com,  bbc.co.uk (German steel mill, 2014), substack.com (Grugq),  substack.com (Srsly Risky Biz)
How mercenary hackers sway litigation battles
A special report from Raphael Matter and Christopher Bing at Reuters looks at the relationship between Indian 'hackers for hire' and US private investigators and law firms. Regular readers will recall the name BellTroX InfoTech from a Citizen Lab investigation in 2020 (vol. 4, iss. 24) who obtained information from the opposition party's email accounts to provide intelligence on legal strategies or other evidence. It's a good read and example of the 'clock and gavel' tactics that some resort to behind the scenes to influence legal battles.
Interesting stats
39% of all UK crime in 2020-21 was fraud, according to the Office for National Statistics, with £1.3 billion being misappropriated by criminals in scams against UK banking customers, says industry group UK Finance ft.com
18 0-day vulnerabilities have been found being exploited in the wild so far in 2022… and 50% are variations on previous vulnerabilities that "could have been prevented with more comprehensive patching and regression tests," according to Maddie Stone of Google's Project Zero team blogspot.com
In brief
Attacks, incidents & breaches
Threat intel
Vulnerabilities
Vulnerabilities found in 25 plugins for the Jenkins open source continuous integration (CI/CD) platform theregister.com
Public proof of concept published for 9.8/10 remote code execution vulnerability in Zoho ManageEngine ADAudit Plus. The bug, CVE-2022-28219, was patching in Mach bleepingcomputer.com
Cyber defence
Security engineering
Congrats to Pedram for the launch of SecDim Play, a security game where you get points for finding and fixing security bugs secdim.com
Privacy
Mozilla is adding a feature to its Firefox web browser that removes tracking parameters from hyperlinks that are used to track users sharing URLs and those who are clicking on them bleepingcomputer.com
Public policy
The NATO military alliance will improve civil-military cooperation and create a 'rapid reaction' cyber force, following a meeting of leaders from all 30 allied countries in Madrid this week cyberscoop.com
The US Department of Justice is targeting to handle 65% of ransomware cases reported to it within 72 hours by the end of September 2023 therecord.media
Regulatory
The US Federal Trade Commission (FTC) is suing Walmart for failing to clamp down on fraudulent transactions while pocketing fees from scammers using its money transfer services. Walmart has called the suit "factually misguided and legally flawed" theregister.com
Cyber regulations for pipelines operators are being relaxed by the US Transportation Security Administration (TSA), with reporting deadlines doubling from 12 hours to 24 hours and a performance-based method that gives greater flexibility and choice over how companies protect their digital systems wsj.com
Law enforcement
Sebastien Vachon-Desjardin, a Canadian extradited to the US in March, is to plead guilty to four charges around his involvement in the NetWalker ransomware gang. Alongside his arrest earlier in the year, 719 Bitcoin and $790,000 in Canadian currency were seized cyberscoop.com
Ukrainian police have arrested nine people for operating over 400 phishing websites believed to have been used to steal $3.4 million from around 5,000 victims bleepingcomputer.com
And finally
HackerOne employee terminated for selling bug reports on the side
Bug bounty platform HackerOne has terminated an employee following an investigation that found they were using their position reviewing vulnerability submissions to steal bug reports and sell them on the side… using the company's own platform. It seems they had pretty terrible opsec, as network traffic provided evidence linking their staff and sock puppet HackerOne accounts and it seems they didn't waste any time getting to 'work' as seven fraudulent claims were submitted to participating companies before they were terminated within 3 months of starting their employment.