This week
Ransomware payments fell almost 40% in 2022
At the beginning of the year, I forecast (vol. 6, iss. 1) that the number of ransomware victims would fall this year. This week reporting from Chainalysis shows that ransomware revenues fell by over $300 million from $766 million in 2021 to $457 million in 2022.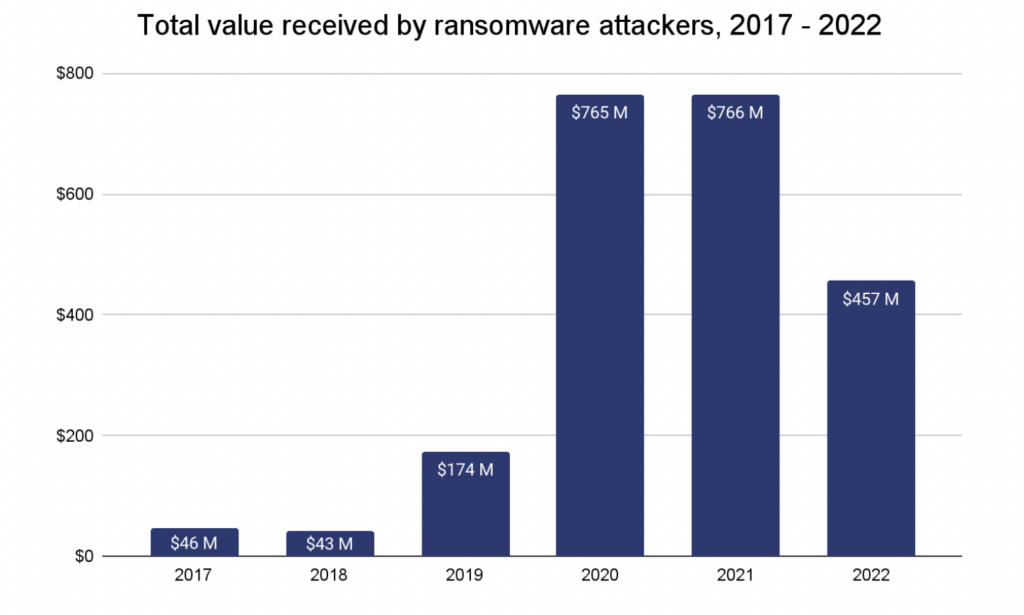 There are many potential causes for this. The US has introduced sanctions against ransomware groups and cryptocurrency exchanges used to launder their ill-gotten gains. This has caused many company executives to think twice about paying ransoms (a good policy move!). Cyber insurance policies are tougher on what they will and won't pay out for (and cost more). Endpoint detection and response solutions have gotten good at stopping malware. The Russian invasion of Ukraine pitted many cybercriminals against each other.
Overall, payment rates have fallen since 2019 from 76% to 41%.
Hopefully, the trend will continue!
Interesting stats
59.4 million compromised payment cards posted for sale on the dark web in 2022, 36.6 million (38%) fewer than the 96 million posted in 2021, according to Recorded Future. therecord.media
3x increase in cyber-attacks against Ukraine in the past year, according to Ukraine's communications and information protection agency theguardian.com
Other newsy bits
Six breaches in five years; T-Mobile breach exposes personal info of 37 million customers
T-Mobile is investigating another breach affecting 37 million customer accounts. Access appears to have been gained via an API around the 25th of November 2022 and persisted through the 5th of January 2023. The internal system provided account information, including names, addresses, emails, phone numbers, and dates of birth.
It's the mobile carrier's sixth breach since 2018. In July last year, the company reached a $350 million settlement over a 2021 breach (vol. 4, iss. 34) of over 47 million customer's data. T-Mobile also vowed to invest $150 million in improving its security posture (vol. 5, iss. 31).
That investment isn't yet delivering the outcomes that management would have hoped.
Until then, customers should be assured that the company is "working hard to earn a place in your heart", per their Privacy Policy.
cyberscoop.com,  theregister.com
Credential stuffing attacks against Norton Password Manager, PayPal
Credential stuffing — trying known username and password combinations on other websites and services — is proving fruitful for attackers. Norton LifeLock has contacted 925,000 customers after detecting an unusually high number of login attempts against their Norton Password Manager accounts. Paypal has also altered almost 35,000 customers after investigating similar credential stuffing attacks against customer accounts in December 2022. 
therecord.media,  securityweek.com
Motherboard manufacturer MSI shipped firmware circumventing SecureBoot
Motherboard firmware updates from manufacturer MSI since January 2022 have set insecure BIOS defaults for a "user-friendly environment". Secure Boot checks the integrity of boot loaders and core operating system files to help protect systems from UEFI rootkits and other low-level nasties. MSI's choice of defaults changed the 'Image Execution Policy' for their motherboards to 'Always Execute', meaning it would load even if suspicious flags were being raised. Future firmware updates will use the 'Deny Execute' setting, or MSI users can change the BIOS configuration themselves. 
In brief
Attacks, incidents & breaches
Threat intel
Vulnerabilities
Cyber defence
Avast has released a decryptor for the BianLian ransom malware zdnet.com
Privacy
The Irish Data Protection Commissioner fined WhatsApp €5.5 million for 'forcing' users to consent to data processing with an "Agree and Continue" option with the introduction of new, GDPR-aligned Terms of Service in 2018. theregister.com
Public policy
China wants to grow its 'data security industry' by 30% yearly to reach ¥15 billion ($22 billion) by 2025. The country will build security labs, industrial parks and demonstration areas to support this ambition. theregister.com
Two-year jail terms for tech company executives found to be "deliberately" exposing children to harmful content on their platforms, following changes to the UK's Online Safety Bill currently passing through Parliament. arstechnica.com
Ukraine has signed an agreement to join NATO's Cooperative Cyber Defence Centre of Excellence (CCDCOE). All NATO members need to sign the agreement before it becomes official. therecord.media
Law enforcement
Anatoly Legkodymov, the founder of the cryptocurrency exchange Bitzalto, has been arrested in Florida. Bitzalto is accused of processing around $4.58 billion of cryptocurrency transactions, of which a "substantial portion" was the "proceeds of crime" or "intended for use in [crime]". arstechnia.com
Mergers, acquisitions and investments
Bitwarden has acquired Swedish startup Passwordless.dev, which helps developers add Webauthn capabilities to their apps. techcrunch.com 
Private equity giant Thoma Bravo has announced a $1.34 billion acquisition of Canadian firm Magnet Forensics. The firm plans to merge the capabilities of Magnet Forensics with that of Grayshift, which it acquired last July. techcrunch.com
Industry news
Sophos is to lay off 450 employees, around 10% of its global workforce, to "achieve the optimal balance of growth and profitability" and "delivering cybersecurity as a service", such as MDR services. techcrunch.com